Using the Mommy!Äiti method!
(aka. Biomimicry* the natural way)
Special invitation for you!
How did you learn to speak English?
* Your Mom and Dad said,   "say Mommy", say "Daddy"
– You said, "mama",  "dada"….  etc. and you know the rest!
Now we will do the same to learn Finnish! Watch the videos in which I walk, sit and drive and talk, in English and Finnish. Just follow me!
---
Step 1
First take your smart phone and download the free "Google Translate" application from Play Store or or App Store.
Select Finnish and English as the language pair. You can also click the arrows in between to get English and Finnish.
Practice a few minutes before "entering" the school.
---
For example, press the microphone icon and say "Minä asun Amerikassa" Google will spell it out and translate it into English!  Click the speaker icon to hear Google talk.
The Finnish Ä, ("a" with two dots) is pronounced like the English "A" in "apple".
Google says, "I live in America."  Ask yourself, Does the answer look good?
Then say, "Missä sinä asut?" Google will translate it – Where do you live? – Amazing?
and "Haluan ostaa kaksi hampurilaista." Google says, "I want to buy two burgers." not bad.
How do you know if Google is right? That's the problem…
I invented the solution. Follow me.
Step 2
Watch the videos, first, "Forest walk"
Sample exercise
When you hear me say something, think about it, repeat it, then talk with Google Translate. It won't take you many months to learn Finnish!
I read a book
Repeat the Finnish after me in the video. Watch and press pause when you want to practice a phrase with Google Translate.
"Book" part 2. I finish reading the book, in English and Finnish, it is a sad story. What is your handicap? Does it slow you down? The video is 6 minutes long.
You will receive a password soon after we receive your tiny payment of 2 dollars!         Then you can watch, listen, learn and speak Finnish!
---
Where are you from?
One of the most common questions when you meet someone. "Minä olen Washingtonista"
Where are you from Part2
(Normal way in Finnish is to say "Pidän suklaajäätelöstä", You can't love ice cream like you love a person : ) )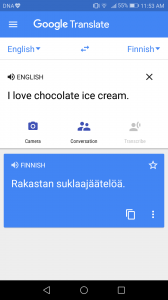 ---
The Rooms of a House: Bedroom!
Bedroom2 (coming later)
of course the SAUNA! inside one, outdoor and smoke sauna! (later)
Kitchen (coming later)
Living Room (coming later)
Cars, travel and transportation (later)
Work; office, factories, stores, schools and hospitals (later)
and many more! Stay tuned and bookmark this page!
---
If you have any Questions or Comments or New Topic Requests, let me know!
Learn something new in each video! Amaze yourself (and others)!
That is all, no grammar, no writing, just plain easy speaking!
---
NOTICE – CAUTION – WARNING!
Sometimes Google doesn't hear well, sometimes it has difficulty getting the right Finnish verb form. Therefore it is good to watch and listen to the video carefully.
If you would like to have personal/private or group Finnish lessons, send me an email.
Easy as that, no grammar, no writing, just plain speaking!